What are Digital Assets?
A digital asset is a digital representation of something of value, for which ownership is verified and recorded on a distributed ledger.
With advances in fintech adoption and innovation in capital markets a new asset class is emerging. These 'Digital Assets' have the potential to drive new avenues of fundraising and trading while redefining capital formation, capital allocation and portfolio construction.
The term Digital Assets covers a whole host of different assets including; crypto-assets, crypto or virtual currencies and any tokenised asset or digital token that represents something of value. This tokenisation process is enabled through cryptography, blockchain and distributed ledger technology with a report by JP Morgan in February stating that blockchain is paving the way for digital money. JPMorgan's own digital coin debuted last year.
In December 2019, Fidelity expanded its cryptocurrency branch Fidelity Digital Assets to the UK to provide enterprise-grade services to allow clients to store, transact, and support their digital asset investments. That same month, it emerged that Dutch bank ING was working on developing technology to help clients safely store digital assets.
From an investor perspective, digital assets are fast becoming a mainstay of portfolios around the world. State Street, which has over $2.5 trillion of assets under management, revealed in December 2019 that 94% of its clients hold digital asset-related products, of which 38% plan to increase their digital asset holdings over the course of this year.
What are Digital Securities?
A digital security is a digital representation of an asset that happens to be a security, often an investment contract, for which ownership is verified and recorded on a distributed ledger.
Often referred to as a security tokens, digital securities are electronically registered and transferable equity, debt, and assets that are issued and/or traded using blockchain technology. In the context of raising capital, asset tokens may be issued through a Security Token Offering (STO), which allows businesses to raise capital for their projects by issuing digital tokens in exchange for fiat money or other digital assets.
As of June 2019, there were around 1,900 cryptoassets in circulation according to the European Central Bank. Analysis of token allocation by sector in 2019 by Coinshedule shows a clear dominance of financial use, finding that most digital assets – around 55% – are developed for trading and investing, payments, commerce and finance, confirming a trend already observed since 2016.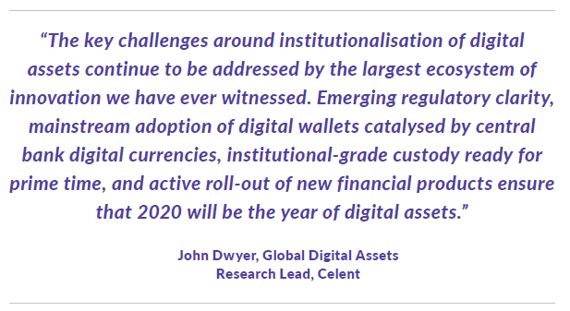 Are Digital Assets Regulated?
Since the beginning of 2019, various established global financial exchanges have announced projects or collaborations aimed at developing the trading of digital assets in a regulated environment.
Regulation is fundamental to the smooth functioning of market infrastructures and payments and increasingly critical given the growing exposure of traditional financial systems to digital assets through various channels.
However, the heterogeneous nature of digital assets means some may qualify as existing legal items (often financial instruments) whereas others are very hard to define under current regulations.
Regulatory approaches around the world have varied wildly, from a reliance on existing rules, to attempts to regulate digital assets more carefully or a wait-and-see approach.
In the absence of hard regulation, alternatives such as self-regulation are emerging in the case of the Japanese Virtual Currency Exchange Association (JVCEA), or regulatory sandboxes in places like the UK, the United Arab Emirates or Lithuania that allow digital asset actors to test their business and grow in a favourable environment.
Although analysis suggests a significant portion of activities involving digital assets may fall within the scope of national laws, the legal uncertainty that surrounds the digital asset environment is probably the most painful thorn in its side.